Discussion Starter
·
#1
·
Hello!
After tons of reading and watching, I'm doing my first finishing job in my new home office. Everything is going great,
I have some wide angles in the attic-like ceiling, and I'm unsure how to finish them nicely.
My first mistake was not using a flexible corner bead; I just used paper tape. At this point, I think I'm past being able to get a nice pointed corner, so
I was wondering if just rounding them would look okay; if so, any tips? Or what else can I do to finish this up?
Some ideas I've had were a cornering knife or an adjustable corner trowel, but I cannot find either in my local area (MI, 48164), and I'm not sure if either would actually work for this.
Any advice would be greatly appreciated; thank
you for your time
, and I hope you have a great Labor Day weekend!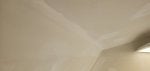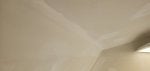 Album: